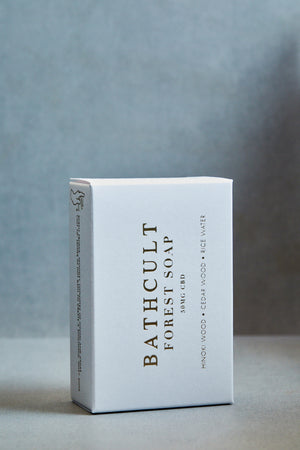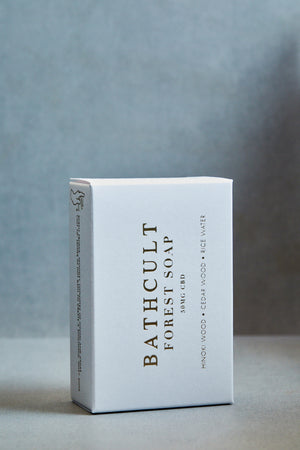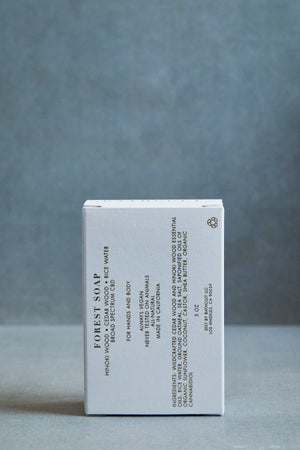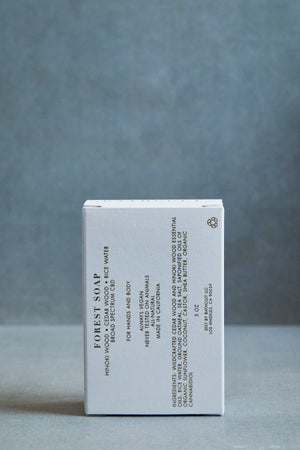 Forest Soap
Cedar Wood - Hinoki Wood - Rice Water
Inspired by the Japanese tradition of forest bathing, this soap simultaneously purifies, moisturizes and protects. Like cedar wood, hinoki wood is revered for its antiseptic, anti-fungal and antiviral properties. It has been used for centuries for treating rashes, cuts, abrasions and minor skin irritations.
Rice water is full of vitamins and minerals that naturally cleanse, and help calm and repair the skin. With a touch of sea salt and oatmeal to act as gentle exfoliants, and an ample dose of shea butter to smooth and protect, this bar is perfect for everyday use.
With 50mg of broad-spectrum CBD
For Hands and Body
natural - vegan - cruelty free 
Made in California
Imperfections are natural! Each Forest Soap bar is made and cut by hand, and unique in its own way. 
4 oz.
Ingredients: 

Wild Crafted Cedar Wood and Hinoki Wood Essential Oils, Rice Water, Ground Oatmeal, Sea Salt, Saponified Oils of Organic Sunflower, Coconut, Castor, Shea Butter, Organic Cannabidoil.